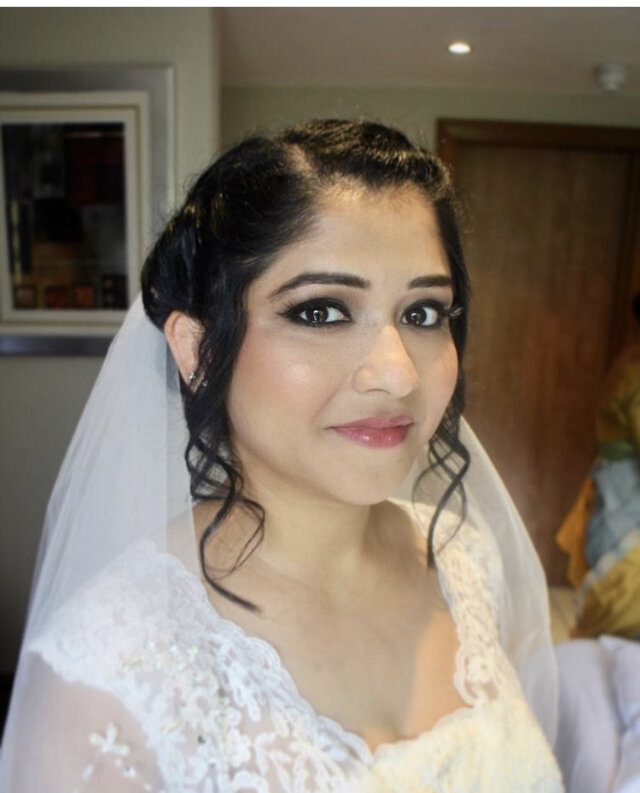 Nicola did my hair and make up and for my sister and mum as well. She is a lovely person and the best thing about her is she listened to what we wanted and did a great job accordingly. She also stayed back and helped me with my dress and veil which was really helpful. Thank you so much Nicola for everything on my wedding day!
you did an amazing job!
such a talented lady and she put up with my weird makeup face.
she helped out with my dress and veil after doing my hair and makeup .
she definitely loves her job and is such a friendly chatty person.
my mum loved her makeup!
also makeup and hair still intact the next day lol!
proper quality job 💯 recommend 🙌
Nicola was absolutely amazing. From my trial to the actual day, she did a perfect job on my make up and for my brides and mom. She made everyone feel relaxed, nothing was too much trouble and she really listened to what we all wanted. I hadn't booked Nicola for my hair but she could see I was panicking and ended up doing that for me too at no extra cost. She really was a true superstar and I cannot recommend her enough. Just brilliant.
Like to say a big thank you to Nicola for doing my hair and make up on my wedding day. She made my bridal party and I feel at ease the whole morning and listened to what we wanted for our make up. Was really pleased with the final outcome, make up and hair lasted all day and looked nice in the photos. Very friendly and reliable. Would highly recommend Nicola.
Nicola did my hair and also my mum and Bridesmaids hair for my wedding day. Nicola was brilliant throughout and gave some helpful tips at the trial to prepare for the big day! On the day Nicola was so friendly and relaxed which also helped us to all feel relaxed. I loved my Hair, thank you so much Nicola
Nicola did my bridal make up on my big day, and she was great. She made me feel comfortable and relaxed. On the trial day, she listened carefully to what I had in mind and she delivered exactly what she promised
Can't recommend Nicola enough, such a lovely person and on top of her amazing talent she did me and 3 of my bridal party's hair and makeup, always there for advice and support throughout the months before the wedding, amazing. Thank you so much!
What can i say that hasn't already been said in other reviews, Nicola from the make up trial to the actual day was truly amazing, friendly and professional
On the day of the wedding Nicola arrived early which put me at ease. She went above and beyond to ensure that myself and my Bridesmaids hair and makeup was perfect.
I can't thank Nicola enough for making me feel so wonderful and beautiful on my wedding day.
I would definitely recommend and would use her services again in the future.
Nicola you are a wonderful talented lady x
As soon as I met Nicola at a Wedding Fair I knew she was the one to do my make up & Hair for my wedding. She understood exactly what I visioned for the Bridal party and listened (rare in the wedding industry lol). She keeps in touch through the run up to the big day, for timings on the day, arranging a trial for Brides Hair and Make up and turns up well on time to get ready on the morning (essential). Nicola settled my nerves (& slight hangover) with her laid back calm attitude which is exactly what I needed. All timings were bang on time for all 5 bridesmaids, Mother of the Bride & Me (Bride) to get on our way. Nicola was so helpful whilst getting dressed, putting my veil on my hair and making sure I looked the part, she was wonderful to have around and apart of the morning.
All makeup used was top quality and knew exactly how to get the hairstyles I wanted perfect on the day. Endless compliments were given to me and my bridal party throughout the day, now looking at photos loved my makeup and hair so much and wouldn't change a thing. Your a fantastic Hair & Make up artist & to have the personality to match 👌🏻 perfect! Lots of love to you xxx
Nicola is genuinely one of the kindest, attentive and most professional people you will ever meet. Not only that, she is a super-talented hair and make-up artist who made me and my bridal party look natural yet super glamorous on our big day. I'm so grateful to have been recommended her and really can't recommend her highly enough. She deserves every success xxx
Dress by https://www.the-couture-company.co.uk
Cannot thank Nicola enough for doing mine and my bridesmaids hair and make-up on Saturday. She spent the morning with us, reassuring me and everyone that everything would go well! She was respectful and lovely and became part of the "getting-ready" tribe. Would recommend her to anyone wanting a calm and lovely relaxed artist for their wedding or event! Much love, Alex xxx
I can't thank Nicola enough. She is so talented and passionate about what she
does and this is evident in the service she provides. She gave great advice and reassurance from the trial to the big day.
On the wedding morning, she set up and worked wonders, she was kind and calming and became part of the family! My makeup was perfect and she understood exactly what
I wanted. My bridesmaids and mum were so pleased with their hair and makeup too! Thanks again xx
Nicola was professional, friendly and efficient. She did a fantastic job on me and two of my bridesmaids, in spite of all the flapping about that was going on around her. She was also very kind to me while I was telling her I wanted one thing whilst meaning something else entirely and got the look bang-on on the day!
LYNSEY
Nicola is truly the most talented makeup artist I have ever met twinned with her wonderful hair styling skills.
Nicola is a very responsive and kind lady, she was open to making recommendations as I wasn't sure quite what would suit me for my wedding reception makeup and hair.
We spent time experimenting in my trial with different looks and she made me feel beautiful.
Nicola went above and beyond to achieve the perfect look and honestly I was astounded by the end result!
I never knew I could look as amazing as I did.
It's safe to say my friends and family also agreed and I really did shine like a diamond
I would happily recommend anyone to Nicola who is in need of a makeup or hair superstar!
Also on a side note Nicola saved me really! My makeup artist I had booked let me down 2 weeks before my wedding reception was booked and I was devastated, I looked through Nicolas work and put an email together thinking it was far too short notice... Nicola managed to fit me in bless her soul and I spent my wedding reception looking for wonderful than I could have ever imagined
Thank you Nicola
I couldn't recommend Nicola highly enough! She did an amazing job of both hair and makeup for myself, my mum and maid of honour. The makeup was perfectly tailored to suit each of us, expertly applied, lovely and natural but also stayed on all day! And our hair was simply lovely - Nicola listened carefully to what we'd all like and we even changed my hair on the day to something completely different from the trial!! She didn't bat an eyelid though!
I was quite nervous on the morning as well but Nicola is so lovely and chatty that she completely distracted me. Thank you for a perfect job Nicola x
JENNY
Nicola did a great job for my wedding last month- was really pleased with my hair and make up, and she was also friendly and easy to communicate with. Would thoroughly recommend!
I was recommended Nicola by someone and after the initial trial I knew I had found my hair and MUA! She was brilliant even when I could not make up my mind she was there to reassure me it was going to look great. On the day she not only nailed my look she was able to do it exactly how I wanted it even when I wasn't able to describe it! Her team also did an amazing job on my mum and my bridesmaids who looked amazing on our wedding. I would recommend Nicky to everyone I know!
Nicola Honey went above and beyond to ensure our wedding morning ran smoothly. From start to finish she was an absolute professional and having her in my room was like having a friend present. I can not recommend her highly enough. She made my wife and I look and feel like queens which is exactly what you want on your wedding day. If I could give more than five stars I would. Thanks Nicola Honey xx
Nicola was just great. I was after a 1920s/30s look for my wedding and she did a fantastic job. I had so many compliments and loved my look. My bridesmaids looked great too and our hair and make-up lasted all day. Nicola was lovely, really friendly and professional throughout and I'd definitely recommend her hair and make-up service for your wedding.
I cannot thank you enough for the amazing work you did the morning of my wedding. You made myself, my bridesmaids and my mum feel like queens 👸🏼
I really can't thank you enough but you truly made me feel beautiful 💗
Lots of love,
Mrs Arnold
Nicola did hair and makeup for me and my mom and we were so happy with the results. She listened to what we wanted and came up with a look we both loved. The makeup and hair lasted all day and night. She is also super friendly and lovely and I highly recommend her.
Thank you Nicola! x
I met Nicky at the EWE wedding fair and it was clear she had a great mix of vintage and contemporary ideas and a creative flair. As a lover of make up and someone who has their hair and make done a lot this was very important to me. I was impressed with her portfolio as well as I could see she clearly changes her style according to brides styles and for bridesmaids and Mommies, etc.
My trial was great, Nicky really understood what I was after and got my hair and make up perfect. She gave me a lot of confidence in my choices and she is also very personable and easy to get on with. On the wedding day she was brilliantly calm and organised. Ready to lend a hand to anything required and clearly an expert in getting people ready for weddings.
She did a lovely job of the hair and make up and was more than happy to listen to us and tweak as well as being extremely professional and having high standards . We welcomed her creativity.
I didn't worry about my make up all day, I didn't touch it once or even check it in a mirror. My hair didn't move. I felt amazing! Like a 1950s Hollywood Star.
Thank you! Xx
I was in two minds about whether to get an MUA for my wedding but Nicola was amazing and I'm so glad I booked her. With suppliers, not only do they need to be great at what they do, but you also need to be great people and Nicola is both. My makeup was perfect and lasted all day as did my bridesmaids and mum's, despite 30 degree temperatures and Nicola stepped in and helped fix my dress after an almost disaster just before we were about to leave. Could not recommend more highly. She is absolutely brilliant
I booked Nicola for my wedding hair and makeup, she is amazing at what she does. I went equipped with a few images not really knowing what I wanted, and she guided me through what would work well. Through both the trial and the wedding morning she was friendly, and efficient, getting me and my bridesmaids ready early enough that the morning was chilled and enjoyable! My hair and makeup was just perfect, and lasted all day long! Really highly recommended! Thank you Nicola!
Nicola is simply fantastic at what she does! I booked with Nicola for the morning of my wedding for me, my bridesmaids and both mums to have our makeup done and we had the best start to the day possible! All the ladies in the bridal party are different in terms of style and colouring and every single one of us looked absolutely amazing without being over done - just the best versions of ourselves! Without any prompting my husband said that Nicola had 'nailed it' with my makeup, he was really impressed. Nicola really listens to what kind of look you're going for and is so talented. On top of all that she is just lovely to be around! The lead up to the wedding was brilliant, all communication was great and the trial was brilliant to figure out what we were going for on the day.
I can't thank you enough Nicola for how beautiful you made us all look
I am so happy and relieved that I found Nicola to be our wedding make up and hair artist. I got married last September and from the moment I met Nicola in my trial, she was so professional, inspiring and so talented! I felt so relaxed on the morning of the wedding day because in the trial she created my dream look of 'vintage glamour' within no time. She made sure I was happy and comfortable throughout the morning which so lovely of her. She knows her stuff and was always so accommodating to make my bridal 'look' was perfect before I went down the aisle. My husband LOVED the look she created too ( there were a few tears teehee) If you want a very creative and lovely artist to help make your wedding hair and makeup complete, Nicola is your gal!
This lady is wonderful. From the second she came to me in the morning we had a fab morning, she made me feel so comfortable and at ease and it all added to the excitement of the day. My hair and make up made me feel incredible and just made the whole day even more amazing. Thank you Nicola
Nicola was really lovely and helpful in the run up to my wedding and an absolute professional on the day. I was so happy with my hair and make up - it was exactly what I wanted.
My wife and I had both our hair and make up done by Nicola for our big day and literally couldn't have been more happy with the results! Neither of us usually wear make up but Nicola listened to everything we wanted and helped make us look and feel amazing on our perfect day! Thank you so much x
Thank you so much for making my beautiful wife & I look & feel amazing on our wedding day! We cannot thank you enough! You understood exactly what looks we wanted and managed to make them even better than we imagined!! If we ever do renew our vows we will be most definitely be giving you a call 😉 xx
Photo by Chris Barber
What an incredible find! I booked Nicola for my wedding make-up (as well as hair and make-up for my bridesmaids and Mothers of the Bride & Groom); it is easily one of the best decisions I made for my big day! She was friendly, professional and expertly created my perfect bridal look. I honestly couldn't be happier with the results!
I was hugely impressed with Nicola at my make-up trial. As someone who does not wear make-up on a regular basis, I was quite unsure as to what I wanted for my wedding look and more importantly, what would suit me best. Nicky was fantastic at guiding me and helping decide on my bridal make-up with me. She was supportive and offered honest, friendly advice and talked through the options I had researched. The make-up at the trial was stunning and stayed put all day. I was able to easily discuss my look with Nicola both before and afterwards and she was patient and reassuring.
With a bridal party consisting of 10 bridesmaids, there were a lot of girls to cater for and everyone was absolutely thrilled with their looks on the day. Nicola was brilliant to deal with in the run-up to the wedding and sourced talented additional artists to make each of my (many) girls feel their best.
On the morning of our wedding, Nicola was punctual, organised and as friendly as always which helped keep me calm; I felt in very safe hands throughout. My make-up was flawless and lasted all day (and I happy-cried a lot!). I lost count at how many people complimented both mine and my bridesmaid's hair and make-up. My look was beautifully natural and was exactly what I wanted.
Thank you so much for making me feel every inch the beautiful bride that I wanted to be; I am beyond thrilled with your work. I cannot recommend you enough and my army of bridesmaids have all said the same! Thank you for being so wonderful to work with before and on the day of the wedding- it is so appreciated! We were a big party to deal with and we loved having you as part of the day. You are a hugely talented and very lovely lady!
Thank you Nicola, you are a star!
Just wanted to say a massive thank you for all your help on my wedding day.
The makeup looked amazing and stayed on all day and I had loads of compliments.
Huge thank you also for helping me with my dress. The day went so quickly and perfectly and followed by a wonderful week in Majorca. Thanks again for everything and it has been lovely getting to know you . Wishing you a lovely time away on your travels.
Nicky was fantastic on my wedding day and in the build up. The trial was great in order to work out what I wanted and whether it would suit me. Nicky gave really good feedback so I could make the best decision for the day. On the day she was punctual, organised and most importantly helped keep me really calm. She was very patient and reassuring. I was thrilled with the results and really felt at my best. Would definitely recommend her! 10/10.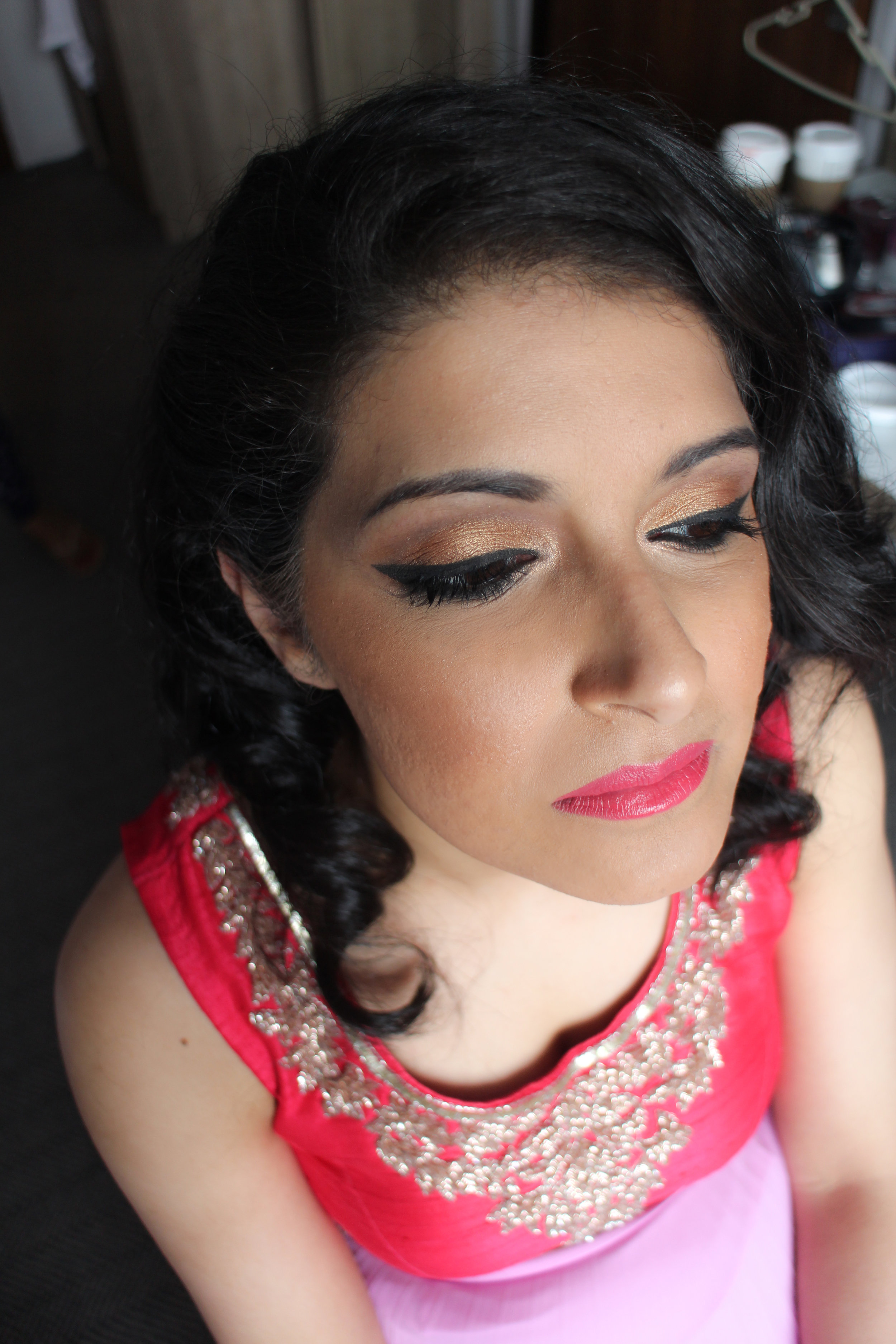 Nicola was a fantastic person to have for hair and make-up. She did hair for 7 people and make-up for 3 people (including myself) on my wedding day. By the end of the night, there wasn't a single hair out of place and the make-up was still flawless. She listened to what I, and my bridesmaids, wanted and made us all feel beautiful.
Not only that but she is one of the friendliest people that I have ever met. Our group officially adopted her as an honorary bridesmaid! Thank you for everything Nicola, you made me incredibly beautiful on my wedding day
JOSS
Just a quick email to say thank you, so much, for all your hard work for our big day.
Everyone looked truly beautiful (and still did at the end of the night - impressive!). You were just amazing, thank yo
"Thank you so much for doing my hair and makeup , everyone said I looked amazing! I will recommend you to everyone!"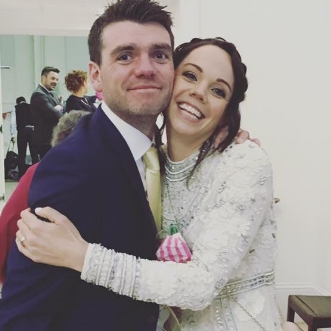 Absolute find. Couldn't be happier with my wedding hair and makeup. The bridesmaids looks stunning too. Just perfect. Nicky made me feel a million dollars. And was amazing to have around before the big event. Just brilliant! THANKYOU so much Hun. You made my day.
I don't even have enough good things to say about Nicky, booking her to do my makeup was one of the best things I ever did! As someone who bothers to spend time doing my makeup every day, I was nervous about giving someone control over my look and consequently seeing someone I did not recognize in the mirror. I needn't have worried. Nicky completely understood I wanted to look the way I usually do but a perfect version. She did my makeup , my four adult bridesmaids, my mom and my junior bridesmaid. Everyone looked flawless! and other than applying lipstick a few times during the day it did not budge. She is also incredibly calming and fun to have around on the morning of the wedding. I would recommend her to everyone! Thank you Nicky , you are a superstar!
A- freaking-amazing! Thankyou so so much for being so fantastic on my wedding day, my makeup looked great, lasted all day and was exactly what I wanted. We have also just had our engagement photos back - went there after my trial and my makeup looks awesome in the photos. You are a legend! I would recommend you to everyone and everybody! Loved that you were part of the morning you felt like one of the girls, thank you, thank you. Now get booking that flight to Oz!!